The Number of People in Each City that Spend More Than 30% of Their Income on Rent
There's a golden rule with housing: never spend more than 30% of your monthly income on rent. For instance, if you earn $2,500 each month, you shouldn't pay more than $750 in rent each month (no matter how amazing the place may be).
It's no secret that cities like San Francisco and New York City have the steepest cost of living. But where else do residents splurge on housing? The team at Vio Security wanted to know how many people actually live by the rule of thirty. (Spoiler: it's not as many as you'd think.)
Cities with a higher overall median income typically saw a low percentage of residents paying more than 30%. But that didn't always check out. In Shirley, New York, for example, the average income is $84,312, yet 81.4% of its residents put more than 30% of their paychecks towards rent costs. Other states, like North Carolina, boasted cities like Morrisville Town, where only 24.5% of its residents pay more than 30%.
Places like college towns or cities with large retiree populations affect a city's gross rent as percent of income (GRAPI) and skew data, since residents are either unemployed or retired, work only part-time, or make a low wage. To fix this, we capped the median income of each city at $100,000 (in part also because wealthy demographics tend to buy instead of rent).
To create our list, we analyzed the cities with the highest and lowest GRAPI (a.k.a. the percentage of people in each city spending more than 30% of their income on rent). In other words, we found the cities where residents spend disproportionately on housing.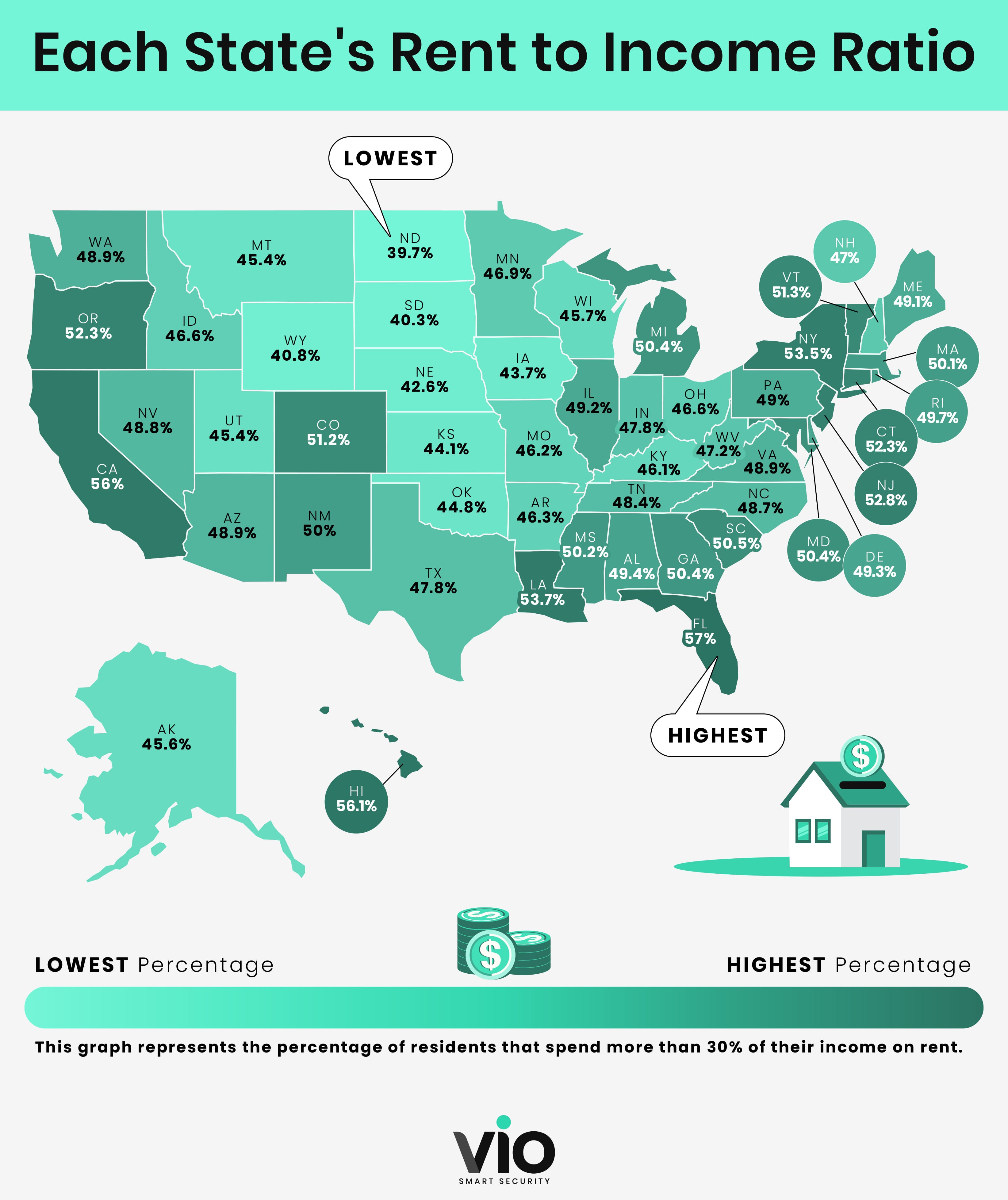 Interesting Findings
With only 24.5% of residents paying over 30% GRAPI, Morrisville, NC, is statistically the best city for renters. Roughly half of housing units (51.3%) in Morrisville are renter-occupied, and at $95,763, the median income in Morrisville is comfortably high.
Isla Vista, CA, leads the charge as the city that has the highest percentage of residents who spend more than 30% of their income on rent. In Isla Vista, 82.4% of residents spend more than 30% of their income on housing—likely because it's home to many UC Santa Barbara students with little income of their own. That means over 80% of Isla Vista residents put nearly 75% of their income towards housing.
Shirley, New York isn't much better than Isla Vista, CA. Shirely has a median income of $84,312, plus a massive median rent of $2,032. At that rate, 81.4% of residents pay over 30% of their paycheck for housing.
Only 39.7% of renters in North Dakota pay more than 30% GRAPI, the least of any state. Meanwhile, a whopping 57% of renters in Florida pay 30%+ GRAPI, the most of any state. Florida is the third-most populated state, and its housing costs are only getting more competitive as a result.
Boston, New York City, and San Francisco have some of the highest housing costs in the country, but they didn't pull significantly high on our list since they have some of the highest salaries in the country. Since salary is matched to the cost of living, these cities didn't rank the worst on our list (but it doesn't mean people there aren't spending more than 30% of their paycheck on rent).
With median rents under $600, some cities with the cheapest median rent are Johnstown, PA, East St. Louis, IL, Nogales, AZ, and West Mifflin Borough, PA—just to name a few.
Ohio had three cities with the lowest rent on our list, and of the top 100 cities on our overall rent vs. income list, 13 of them are in Ohio—that's more than any other state.
Methodology
To find our numbers, we compared rent and income data for 2,075 cities in the United States. We analyzed the gross rent as percent of income (GRAPI) in each city to see how many people spend more than 30% of their income on rent.
In order to reduce the number of outlier cities that could skew data, we included only cities and towns that had 15,000 or more residents over the age of 15, plus a median income under $100,000.
To find the ratio of rent to income in each city, we dug up each city's GRAPI. From there, we ranked each city based on what percentage of their population spends over a third of their income on rent (a.k.a. the number that's greater than 30% GRAPI).
For example: if your income is $50,000 and your monthly rent is $1,250, your total rent for the year would be $15,000. That, divided by your income of $50,000 equals 0.3, or 30% GRAPI. If a resident making $50,000 a year paid $2,000 in rent each month, they would have a greater than 30% GRAPI.
We calculated the median rent, median income, and percent of residents paying over 30% GRAPI from the 2017 American Community Survey 5-Year Estimates.
Let Vio Keep You Safe
Regardless of how much you have to spend on housing, save on your peace of mind with Vio Smart Home Security. Manage your thermostat, check video surveillance, and do even more even when you're away with our mobile app.